Bifold Doors in Chessington
Aluminium bifold doors are rapidly becoming one of the most popular home improvement solutions within the market, and it's not hard to see why. We are proud to offer our valued customers our aluminium doors for their properties in Chessington and the surrounding areas here at Marathon.
Enjoy a stunning product that offers equally stunning benefits that will no doubt improve your quality of life at home. Sporting incredibly slim frames, our doors boast a sleek profile whilst wielding deceptively immense durability and resiliency.
Enjoy improved home security, performance and, of course, style with our aluminium bifold doors. Enhance your Chessington property in every aspect with a home improvement solution that does it all. To find out more about how you can transform your home, simply get in touch with us today.
Enhance your Home Security
Despite its sleek profile, our aluminium bifold doors offer unrivalled resiliency and durability that can withstand any external factor, including the natural elements and excessive physical force from potential home invasions. Bring style and security to your property in Chessington and the surrounding areas today for a safer future.
Here at Marathon Windows, we standard fit all of our aluminium doors with advanced locking systems by Yale. Ensure that you and your loved ones can rest with peace of mind as our home improvement solutions and their secure hardware keep you and your property safe.
Our bifold doors sport an aluminium profile. Aluminium, despite being a lightweight metal, offers incredible levels of resiliency and durability. Ensure that the very worst of the British weather or attempting home invaders enter your own with our aluminium bifold doors standing guard.
To find out more about how you can secure your Chessington property, simply get in touch with us today!
---

---
Energy Efficient Aluminium Bifold Doors
Our home improvement solutions weren't built just to provide improved style and home security but to enhance the overall performance of your Chessington property. Expertly engineered to be energy efficient, our aluminium bifold doors utilises their Origin profile to provide unmatched thermal performance.
Built to trap and retain the natural warm air found within your property, you can benefit from an interior that is consistently warm and comfortable without the need or cost of your central heating. Decrease your carbon footprint and the amount you spend on the energy bill as you no longer need to switch on the radiator to keep warm. Save money and stay warm with Marathon Windows.
For environmentally-conscious homeowners, our aluminium bifold doors are entirely recyclable. Invest in a home improvement solution that will not end up in a landfill. Enjoy a door that will transform your property without affecting the planet.
---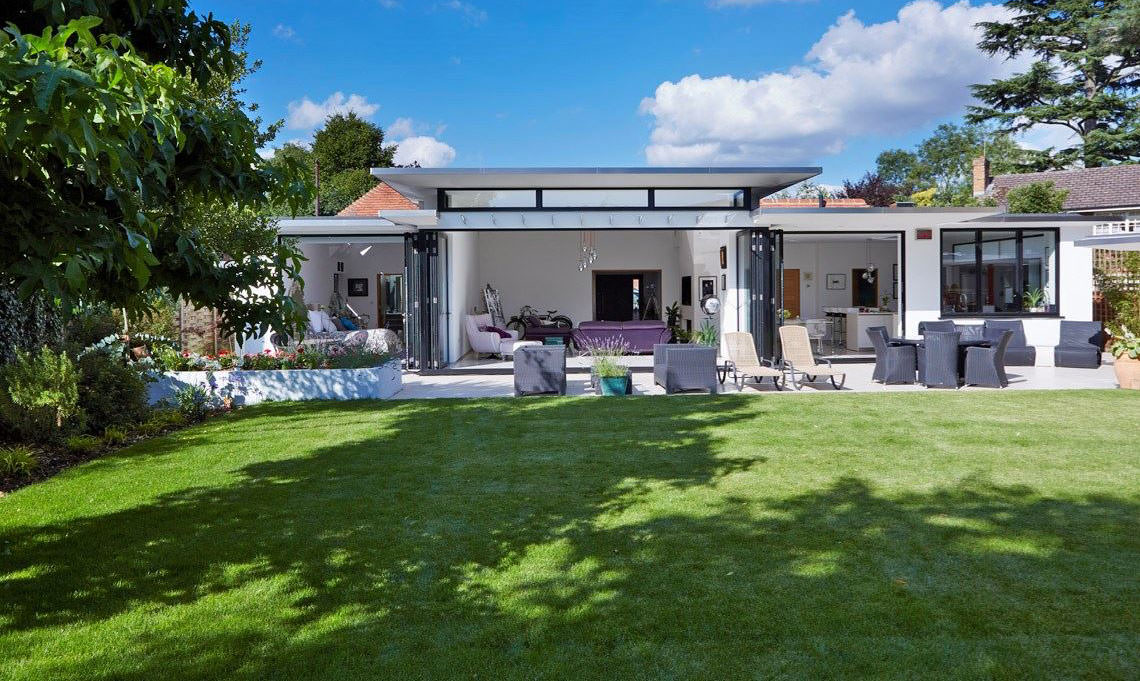 ---
Low Maintenance Bifold Doors In Chessington
Decide whatever colour you would like your bifold doors to be, and we can do that for you! This can be one solid colour or a dual colour option that is different from the inside to the outside. This will help you to better match this installation to you're the designs home. This will be covered in a powdered coat finish which will ensure that the colour will not peel, fade or discolour.
The slim frames are operated across the gliding system, which is sure to last for many years to come. You won't find yourself having to sand our bifold doors down because it lacks the performance you're after. This also means that you won't have to repaint the installations for their aesthetics to remain the same. Their enduring colour shades will last for the entire life span of your new bifold doors.
The minimal amount of maintenance that you will have to do is wipe these profiles down from time to time with a damp cloth. Please do not hesitate to get in touch with us at any point using our online contact form.
Aluminium Bi-Fold Door Prices, Chessington
Would you like a tailored and bespoke aluminium bifold doors price? Use our online cost calculator, and this will give you a price that is built around your design preferences. This can be used on mobile, tablet or desktop.
Using our online contact form, you can leave us a message. We will respond to this quickly with all the information you would like to know about our bifold doors and how they can benefit your way of life in Chessington and throughout the surrounding areas.
We look forward to hearing from you very soon!