Our stunning bifold doors in Epsom offer market-leading aesthetics, with ultra-slim sight-lines and concealed hardware. Benefit from a choice of stylish designs as well as being guaranteed a high-quality performance – our slimline bifolding doors will make a beautiful and valued addition to your property.
With a wide choice of opening configurations, colours and finishes – our panoramic doors are a stylish way to bring the outdoors in. With aluminium bi-fold doors in Epsom & Surrey, you are bound to find the door of your dreams with Marathon Windows.

Bifold Doors Epsom
Outstanding aluminium bifold doors from Origin in Epsom
With a wide choice of opening configurations, colours and finishes – our panoramic doors are a stylish way to bring the outdoors in.
The Benefits of Bifold Doors
Bespoke British Hardware
Guaranteed Performance
Stylish & Wide Opening
Low U-Values
Accreditations
Innovative Design
When fully retracted, bi-folding doors can create up to 90% of open space. They are a superb way of opening up your home and creating extra living space.
Bifold doors fold back to just a few inches of opening and can be manufactured up to an impressive 6 metres wide. This provides you with a seamless entrance between rooms – a simple and beautiful way to enhance your environment for that 'wow' factor.
We know that every home needs a personal touch. This is why our modern bifold doors offer maximum versatility to help you enjoy and expand your Epsom home in a way which works best for you. We offer a choice of folding and opening configurations so you can choose how it all works.
Imagine wide open spaces with enhanced light and air. Our double glazed bifolding doors will instantly create a contemporary look and feel. These doors give you an uninterrupted space which stretches from home to garden.
Their sleek profile will enhance light and space, with nothing to obscure your view. Our slimline bifold doors slide back with the lightest of touches and fold all the way back to create a continuous 'garden room' in your Epsom home. You can choose to fit your bifolding doors anywhere in your home or wherever you need access to your patio and garden area.
---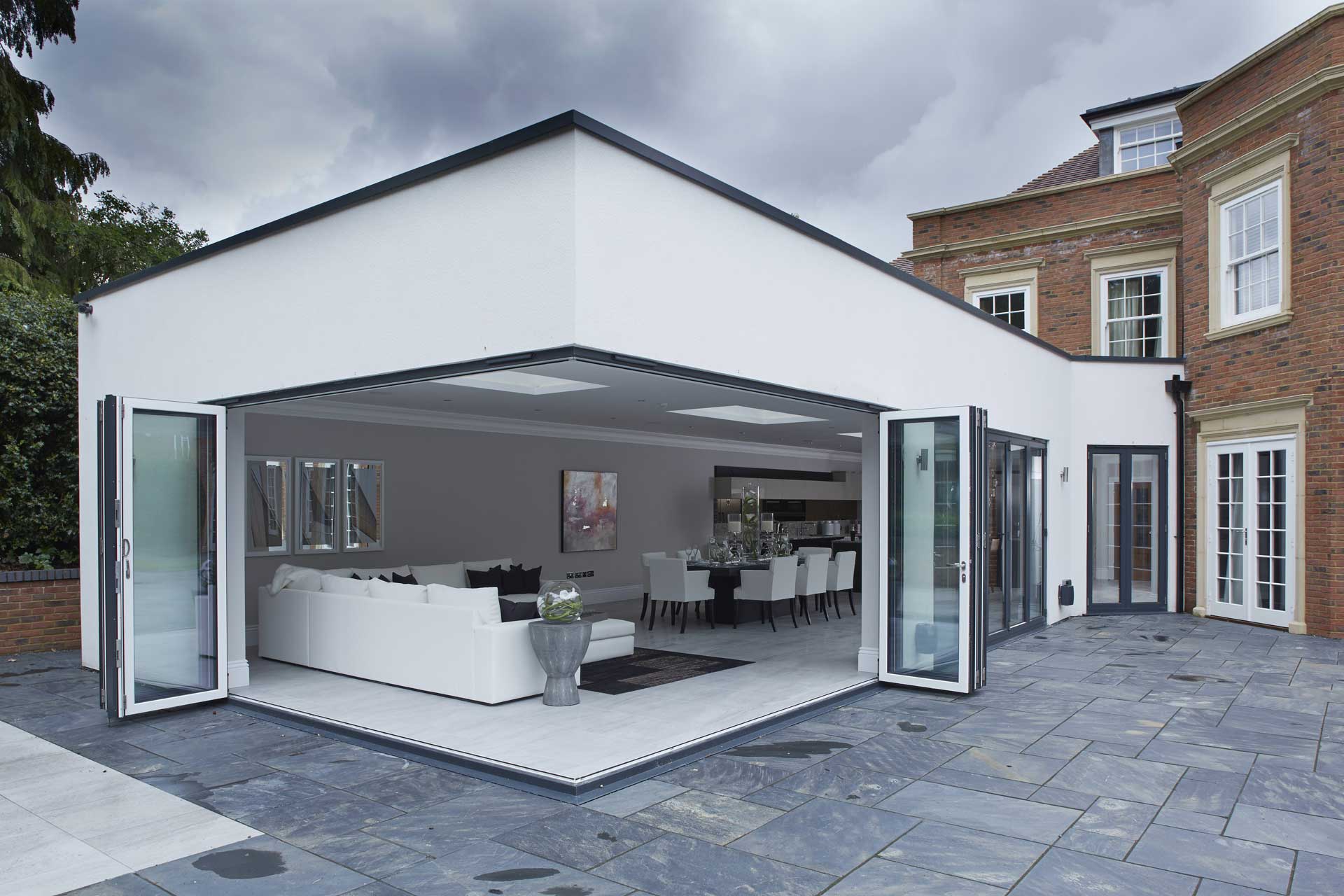 ---
Aluminium Bifold Doors, Epsom & Surrey
Our aluminium bifold doors in Epsom are a stylish and sophisticated addition to any property. These doors are manufactured from the highest quality aluminium, constructed with great deal of care and attention to the finest details. This way, we emphasise the minimalist beauty of these amazing doors.
Origin's advanced bifolding system offers technical excellence as standard, providing a modern-living home-improvement solution. As a result, bifold doors offer amazing durability and fantastic thermal performance for Epsom homes. The deal becomes even sweeter when you consider our competitive double glazed aluminium bifold door prices. It's not to be missed!
This beautiful style of aluminium doors can be completely retracted, opening up your living space with a seamless entrance to the outside. Expand your home today with our top-of-the-range bifolding doors, offering large glass panes and slim sightlines.
---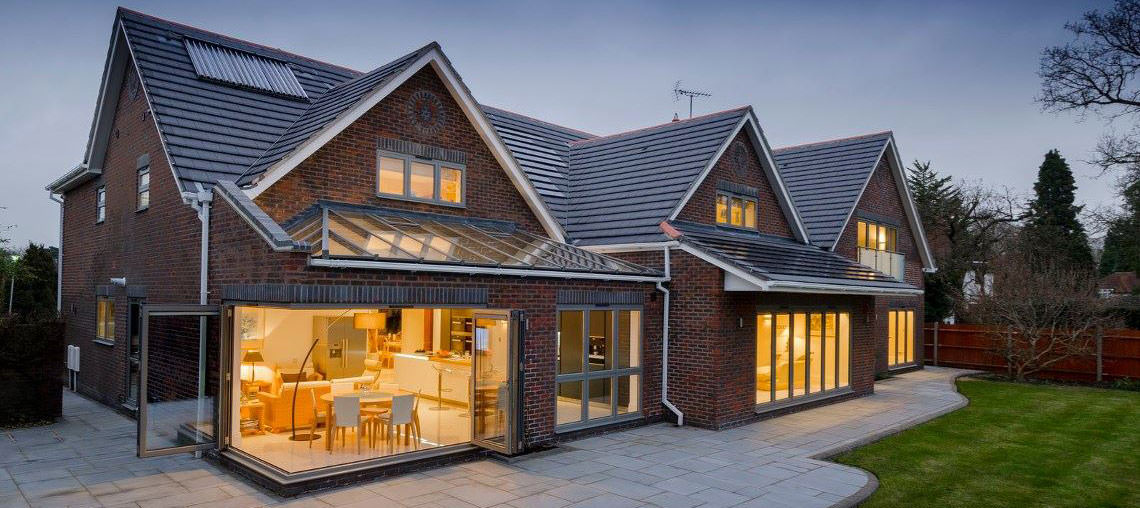 ---
Modern Bifold Doors Epsom
If you are looking to maximise the natural light entering their home, beef up security and improve the energy efficiency of your property, you will love our aluminium bifold doors. Bifold doors are designed to complement both traditional and modern properties with their attractive slim profiles that maximise the natural light entering your Epsom home. In spite of their slim and elegant appearance, our modern bifold doors offer maximum security and strength.
Aluminium bifold doors offer something that no other door can for your Epsom home – an added sophistication which complements your home's appearance. They impart a somewhat executive and contemporary appearance that is the result of a well-thought-out design and the highest quality aluminium. Bifold doors are guaranteed to add value to your Epsom home!
Furthermore, our aluminium bifold doors are available with slim sightlines in Epsom. This makes them ideal for connecting your home to the outside world and presenting you with beautiful panoramic views of your slice of Surrey.
Contemporary Bifold Doors In Epsom
Aluminium bifold doors present a fantastic solution for your Epsom home. These doors offer a contemporary design that improves not just the appearance but also the energy efficiency and security of your property.
Origin has designed a truly panoramic folding door system, which redefines the border between the inside and the outside. The super slim sight-lines and narrow aluminium frame provide for a completely unobtrusive garden entrance.
When you choose Marathon Windows for your bifolding doors in Epsom, you can benefit from an enhanced view of your garden from the comfort of your home.
This versatile aluminium bifold door will transform a room, fluently merging internal and external thresholds.
Additionally, bifold doors come with high-quality locks and reinforced stainless steel hinges for your Epsom home. As a result, our aluminium bi-folding doors function effortlessly for years.
Aluminium bi-fold doors from Origin utilise a unique running system. The high-quality, fully-concealed, running gear is protected against tampering and completely weatherproof. Intricate aluminium technology is presented in a design which breathes simplicity.
---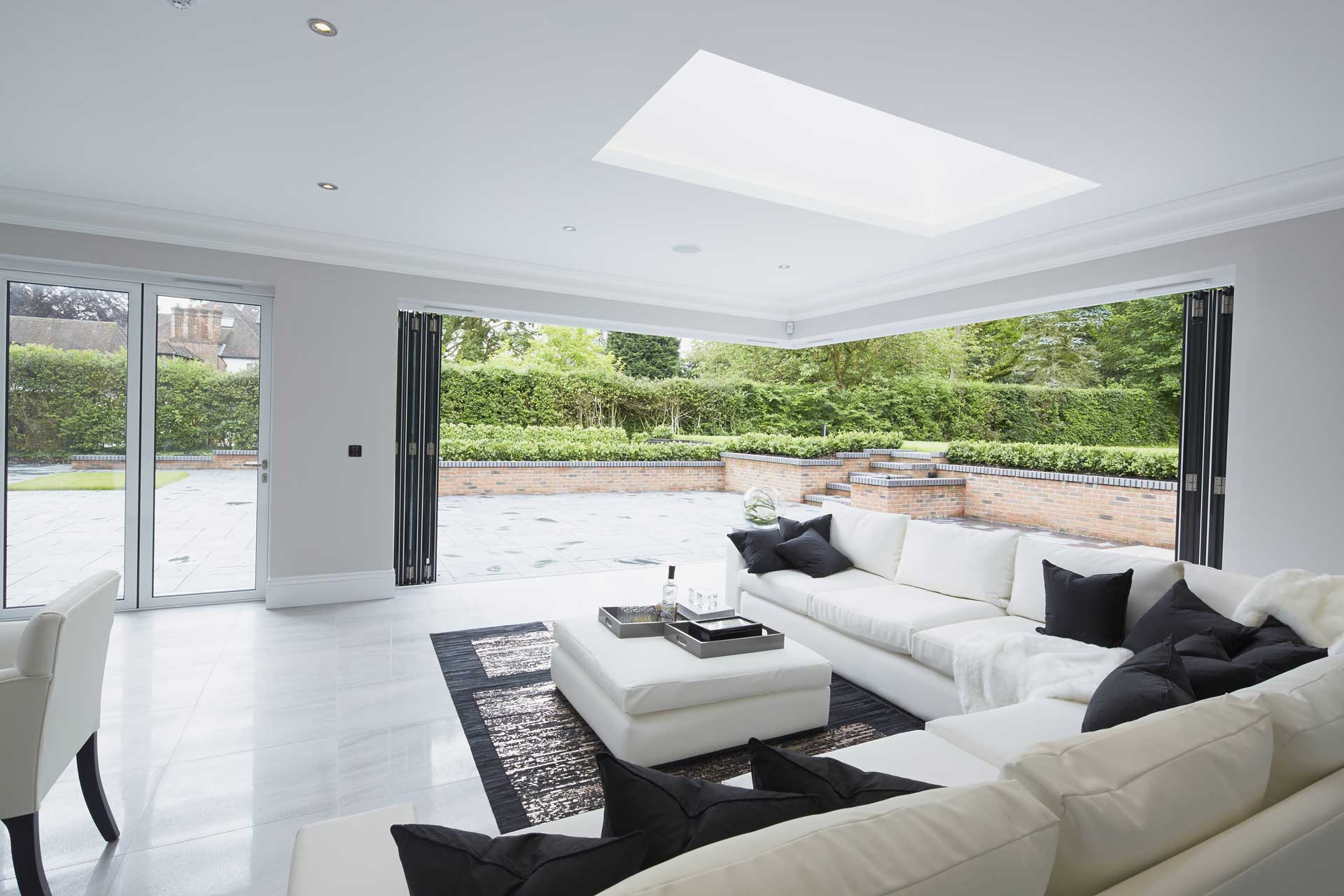 ---
Secure Your Property With Bi-Fold Doors
Marathon Windows are second to none when it comes to security.
Our Origin bifold doors are installed with Yale Shootbolt locks as standard and an 8-point multipoint lock which fires steel bolts 20 millimetres into the top and bottom of the aluminium door frames. Our bifold doors are also fitted with a deadbolt and an anti-lift latch mechanism to protect your Epsom home.
These incredibly secure locks combined with the anti-tamper running systems and security hinges create the highest-security glass doors on the market. With our bifolding doors, your home and your family are always protected.
Eco-Friendly & Thermally Efficient
We at Marathon Windows are home improvement specialists. Therefore, it is important for us to supply all of our customers with aluminium bifold doors that are heat efficient in Epsom. We give you doors that are designed and proven to save you money by lowering your expensive energy bills.
Our exquisite aluminium bifold doors are created from durable, sustainable materials. You can rest assured that if you buy your aluminium doors from us you are doing your part to transform your home into a greener home.
These British-made aluminium bifold doors are built using only premium grade, 100% recycled aluminium. With these superior materials, you get bifolding doors that provide unparalleled strength but remain lightweight.
The high-quality materials used in the fabrication process, combined with an innovative design, make for a completely weathertight glass door.
Triple and double glazing options further improve the thermal abilities of the door keeping you warm in the Winter and cool in Summer.
---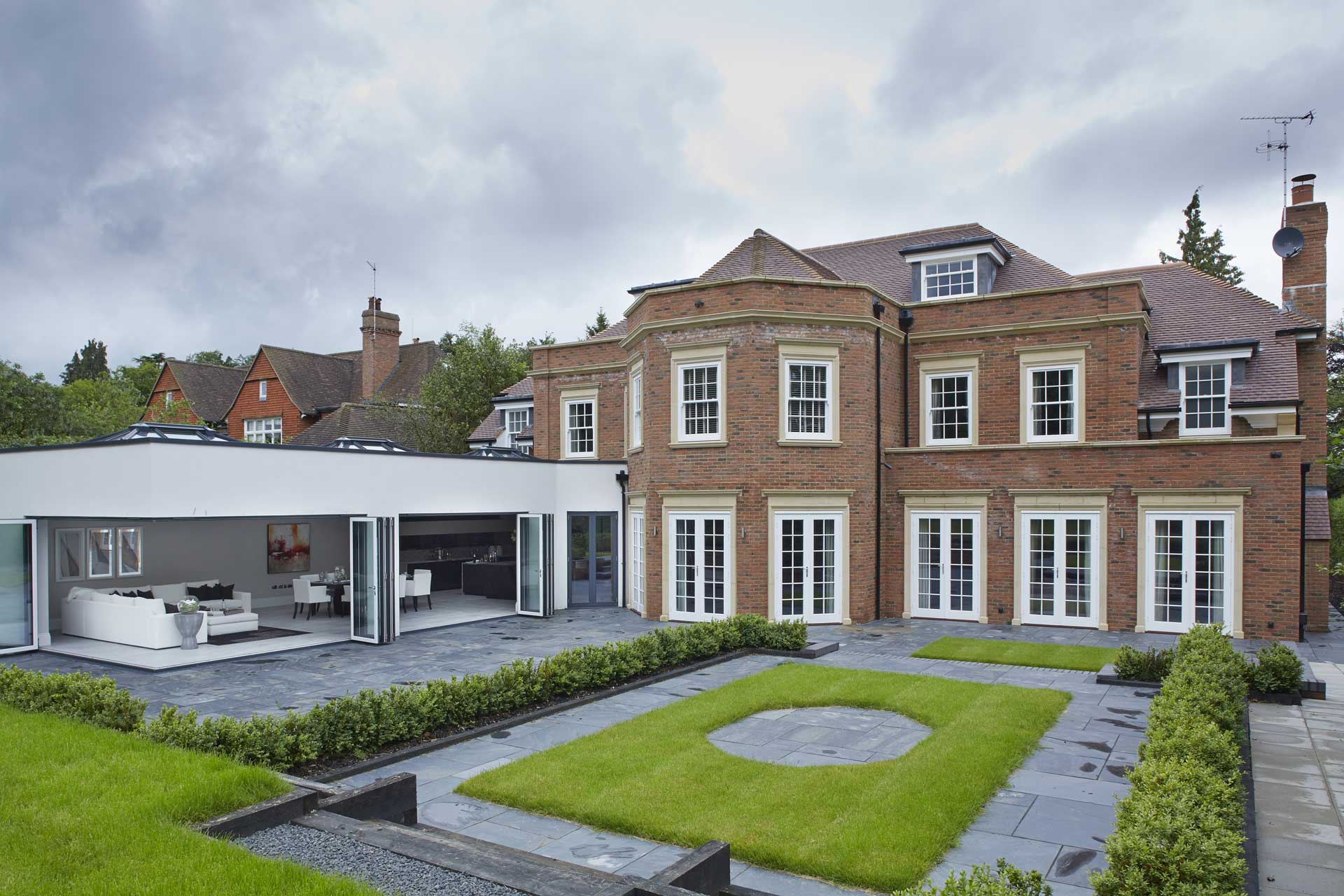 ---
Double Glazed Aluminium Bifold Doors
Double glazing is a simple technology that can give fantastic benefits. Done properly, it can help insulate your Epsom home better, leading to you spending less energy in heating or cooling your rooms.
Fortunately, we have decades of experience in the field of double glazing!
Our in-house team of highly trained and experienced glazers share a wealth of experience between them, the finest installers of double glazing and bifold doors in Epsom and surrounding Surrey areas.
Essentially two panes of glass are placed at a carefully measured distance within the frame of our aluminium bifold doors. Each pane of glass is heavily reinforced, in order to achieve absolute strength and safety. The distance between the glass must be precise in order for the technology to work.
The two panes of glass trap a thin layer of air between them which cannot move, nor escape. This layer of air creates what is commonly referred to as a thermal blanket, a layer of insulation within your aluminium bifold door which prevents cold air from entering your home and your heating from escaping.
Aluminium Bifold Doors Safety Features
Choosing a new door can seem like a daunting experience. Here at Marathon windows, we make the choice easy as we promote safety in all of our products. Choosing an aluminium bi-folding door is ideal for family's in Epsom and Surrey with young children.
Child safe gaskets and slam-proof magnets are integrated into the build of our aluminium bi-folding doors to prevent anybody from being hurt. The master door is also secured by a heavy-duty, magnetic catch preventing the doors from slamming shut on little fingers. We install our double glazed bifold doors to be tailored to your Epsom home and your needs.
Bespoke Aluminium Bifold Doors
This dynamic aluminium bifold door profile is available in a number of configurations and bespoke designs. Choose from two to eight door sets with either inward or outward opening formations. We also offer the full extent of RAL colours and many finishes so your new doors can seamlessly blend with your property. Bespoke size options and low thresholds are also available for the ease of access.
A set of our aluminium bifold doors can be fitted almost anywhere in your Epsom home. Whether this is on a versatile wall between internal living spaces or a tailor-made entrance to your garden area or patio, Marathon Windows will deliver a result that will transform your home.
20 Year Warranty on Bifold Doors
We are so confident in Origin, and they are so confident in the quality and durability of these stunning bi-fold doors that they offer a 20-year manufacturer's guarantee with every installation in Epsom. That's two whole decades! Each carefully crafted aluminium bifolding door has its own unique serial number providing for a 20-year warranty upon registration. You can always contact us for more information.
---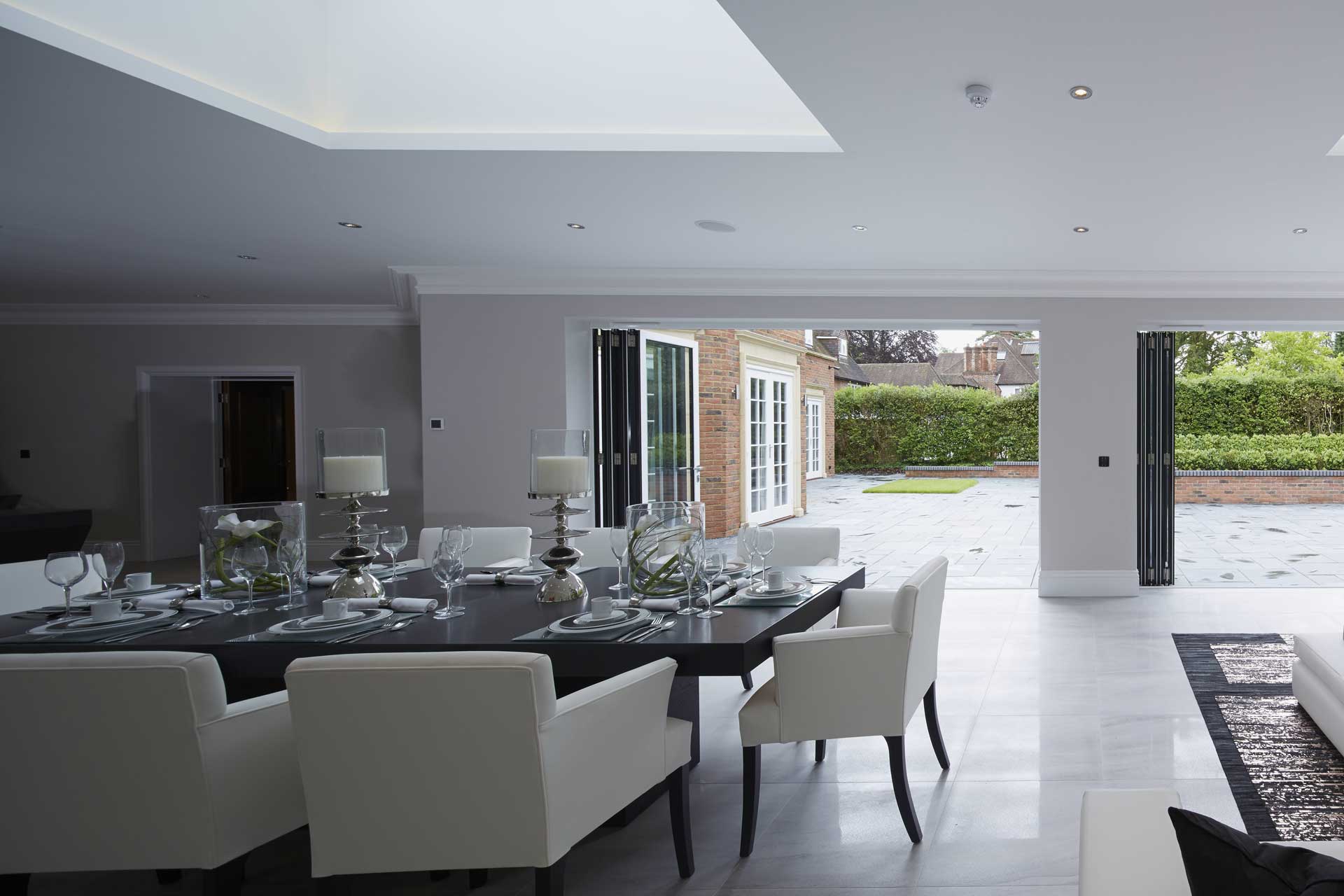 ---
Aluminium Bifold Door Prices, Epsom & Surrounding Surrey Areas
Do you feel that our bifold doors might be the perfect choice for your Epsom home? Generating your free quote is efficient and hassle-free. Simply use our online quoting engine to get instant bi-fold door quotes in Surrey.
Alternatively, you could visit the contact page of our website, express an interest in our bi-folding doors and one of our friendly and polite team members will get back to you.
If you would prefer to speak to one of our advisers in person, you can call us on 01372 740706. We'll give you any information you need on our products, talk about our building procedures and give you a no-obligation quote over the phone.
We supply and install aluminium bifold doors in Epsom, Mitcham, Croydon, Purley, Sutton, Coulsdon and throughout Surrey.