Bifolding Doors In Kingston
Aluminium bi-fold doors provide a stunning modern door design that is fast becoming one of the most popular home improvement products in Kingston and throughout the surrounding areas. You may be asking yourself: why is this a highly sought after double glazing product?
Our bifold doors are stunning to look at. This is because they have minimal frames with vast areas of double glazing, allowing natural light to pour in. This will brighten up even the darkest of spaces with ease. However, it is not just their appearance that makes them so appealing to homeowners in Kingston and the surrounding areas.
It is also the fact that they boast incredible performance with some of the best security and energy efficiency available on the market. Are you looking to improve your way of life? Get in touch with us today for more information about our bifold doors!
Stunning Bifold Doors Security
It doesn't matter how beautiful a door, maybe. If it doesn't perform, there's no point in having it installed. This is because you want to be adding value to your property in Kingston and throughout the surrounding areas. With our bifold doors, you can be sure that this will be precisely what you are doing.
As all our bifolding doors are fitted with advanced locking systems by Yale, you can have peace of mind knowing that our fantastic slide and fold doors adequately protects you, your family and your possessions.
Aluminium is also an incredibly robust material that is sure to last for many years to come. Its durable nature will completely transform the overall look and appeal of your home without damaging the structural integrity of your walls.
If you're concerned about potential intruders getting in, Yale also offers a £1000 insurance backing for the content of your home should the unlikely event occur. Do you have any questions? Please reach out to us today by filling out our online contact form.
---

---
Energy Efficient Aluminium Bifold Doors
It is no secret that heating is lost through our double glazing. Opting for a large double glazed bifold door might seem like a crazy thing to do if this is something that you're worried about. However, the aluminium profile from Origin is incredibly thermally efficient. This means that your home will stay warm and at a comfortable temperature throughout the year without having to leave your heating on.
If you're conscious about the environment, our bifold doors are the home improvement product for you. This is because the frames are entirely recyclable. They will not end up in a landfill like so many other installations. This, combined with the thermal performance, will help to reduce your overall carbon footprint with ease.
Not only this, there is a potential benefit available to you. See a decrease in how much you have to spend on your annual energy bills and save money. With our bifold doors, you won't have to break the bank. Would you like a free bifold doors quote? Use our double glazing cost calculator today for a tailored price.
---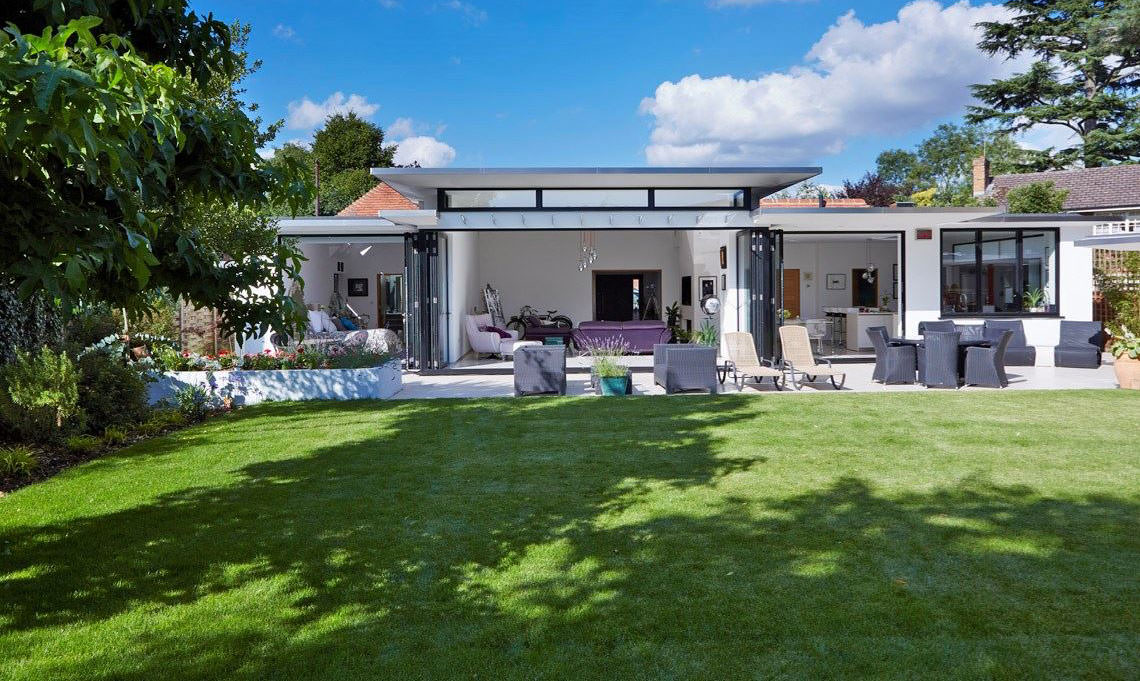 ---
Low Maintenance Bifold Doors In Kingston
Decide whatever colour you would like your bifold doors to be, and we can do that for you! This can be one solid colour or a dual colour option that is different from the inside to the outside. This will help you to better match this installation to you're the designs home. This will be covered in a powdered coat finish which will ensure that the colour will not peel, fade or discolour.
The slim frames are operated across the gliding system, which is sure to last for many years to come. You won't find yourself having to sand our bifold doors down because it lacks the performance you're after. This also means that you won't have to repaint the installations for their aesthetics to remain the same. Their enduring colour shades will last for the entire life span of your new bifold doors.
The minimal amount of maintenance that you will have to do is wipe these profiles down from time to time with a damp cloth. Please do not hesitate to get in touch with us at any point using our online contact form.
Aluminium Bi-Fold Door Prices, Kingston
Would you like a tailored and bespoke aluminium bi-fold doors price? Use our online cost calculator, and this will give you a price that is built around your design preferences. This can be used on mobile, tablet or desktop.
Using our online contact form, you can leave us a message. We will respond to this quickly with all the information you would like to know about our bifold doors and how they can benefit your way of life in Kingston and throughout the surrounding areas.
We look forward to hearing from you very soon!