uPVC Doors for Chessington Homes
uPVC doors are an excellent option for your home in Chessington because of their durability and longevity. In fact, they can last for up to thirty years if maintained properly. Unlike other materials, uPVC doors are not easily damaged, so they will not rot, rust, or crack. This also makes them a secure option for your home because they will maintain their structural integrity even when exposed to harsh weather conditions and force.
Our uPVC doors are all installed with high-quality locking systems that are stringently tested for consistency. This means that you can rest assured that your home will be kept safe for the next three decades! The secure locking systems also ensure that your doors are tightly sealed, making mould, leaking, draughts, and dampness problems of the past.
Our uPVC doors from Eurocell come in a range of styles, so there is an option for every Chessington home. We have styles for both traditional and modern homes, with a range of customisations that can help your new uPVC doors replicate the period. We also have doors for all sized homes, large and small alike, so we truly have everyone covered at Marathon Windows.
---

---
Stunning uPVC Door Styles
We have a large selection of uPVC doors ranging from front doors to back doors and those for in between. You can mix and match throughout your Chessington home to enjoy the full benefits that uPVC has to offer. Whether you are looking for new uPVC doors for your entire home or just one replacement uPVC door, Marathon Windows would love to help with your project.
uPVC Residential Doors
Front doors serve one main purpose; to keep your home safe. The sheer strength and rigidity of uPVC provides enhanced security to protect your home and its contents.
uPVC Stable Doors
Stable doors are a unique design that pair perfectly with heritage homes and country houses. Our uPVC stable doors are a superior option to traditional wood as they offer better durability and they last longer.
uPVC French Doors
To add a touch of elegance to your home, uPVC French doors are an excellent option. Originally invented to allow more daylight into homes before artificial lighting, these are the perfect traditional patio door with the modern benefits of uPVC.
uPVC Patio Doors
Sliding uPVC patio doors are a great solution for smaller homes as they do not need room on either side to swing or fold. They can also give the illusion of a larger living space.
uPVC Bi-Fold Doors
Our uPVC bifold doors are an affordable way to give your home a luxurious, high-end feel. They operate smoothly, so they are equally as suitable for more fragile homeowners.
---

---
Bespoke Designs
We want everyone to be able to create their dream doors that are completely bespoke and tailored to their home. We have a range of versatile colours and authentic woodgrain foils for you to choose from, including White, Cream, Grey, Irish Oak, Golden Oak or Rosewood. Our wood effect finishes are textured and multi-dimensional in colour to replicate traditional wooden doors.
The best thing about our colours and foils is that they are scratch-resistant and long-lasting. Unlike paint, they will not chip or fade, so you will not have to have them touched up! Your new uPVC doors merely need to be wiped with a damp cloth to continue looking and performing their best.
Secure Doors
We know that your priority is keeping your Chessington home safe. We take extra precautions to ensure that our replacement uPVC doors are strong and secure so that you can rest assured that your home and its contents are well protected.
Our uPVC doors are fitted with state of the art anti-tamper locking systems approved by Secured by Design, a police backed initiative to improve building safety regulations. We also carry out stringent tests that ensure our doors are consistently offering protection against force.
---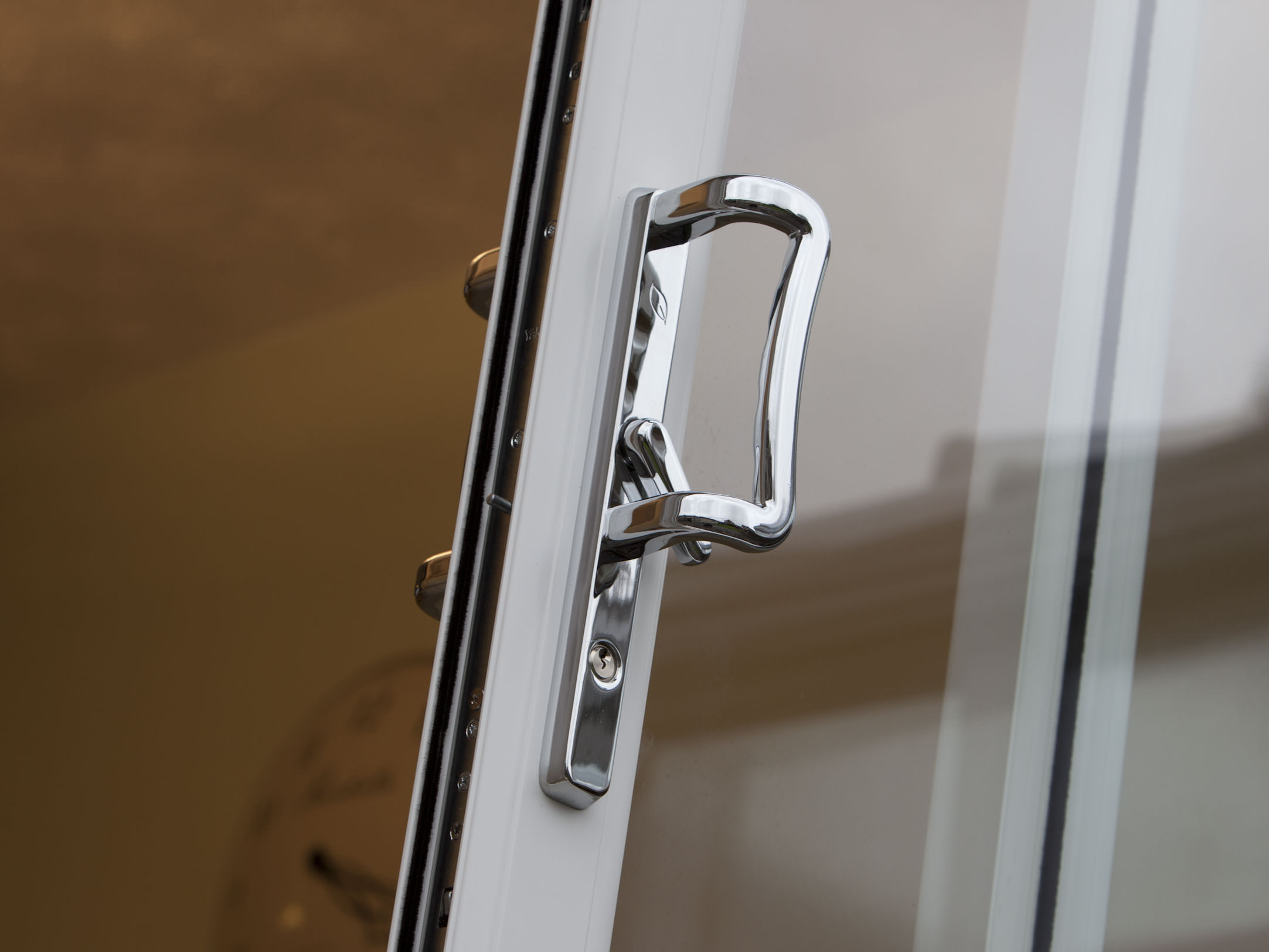 ---
Thermally Efficient Double Glazed uPVC Doors
All of our doors are fitted with advanced double glazing that boasts exceptionally low U-values. This means you can enjoy optimal light transmission and heat retention. uPVC is also an excellent insulator that helps prevent heat escaping and cold draughts from entering your home.
Improving the thermal efficiency of your home is beneficial for several reasons. uPVC doors help insulate your home, so you have to rely less on central heating. This can reduce your energy consumption, reducing your household carbon emission. Additionally, as a result, you could find yourself saving money on your energy bills!
uPVC Door Prices, Croydon
To get a bespoke quote for your home in Chessington, use our online tool today. It is quick and simple to use, and it will provide you with a quote based on the requirements of your project.
If you would like a more accurate guide price, contact our team today by calling 01372 740 706 or filling out our enquiry form, and we will get in touch at a time that suits you.