Roofline Services
Roofline, such as our fascias and soffits, is a vital part of the structure of your home in Epsom, Coulsdon, and surrounding Surrey areas. It protects your property from the elements and it gives it a neat, clean finish, making it more aesthetically appealing.
At Marathon Windows, we offer a range of stylish and high performance roofline options to transform your home with both performance and style. You can even customise them to complement your home and personal style.
Fascias
Fascias are a fantastic way of updating your home, and ensuring your roofline offers the best protection possible against the weather. They are a clever installation which runs along the lower edge of the roof.
These boards are fixed to the lower ends of the roof trusses and usually, they do the work of supporting the lower edge of the bottom row of tiles. They also support the guttering, so they have to be strong and durable, as they are faced with gallons of water weight every downpour.
You can create a stylish look for your home with new fascias, ensuring it is neat and tidy and achieves the standard you would expect. Fascias are the section of your roofline that fronts your house, and they can really add to its beauty.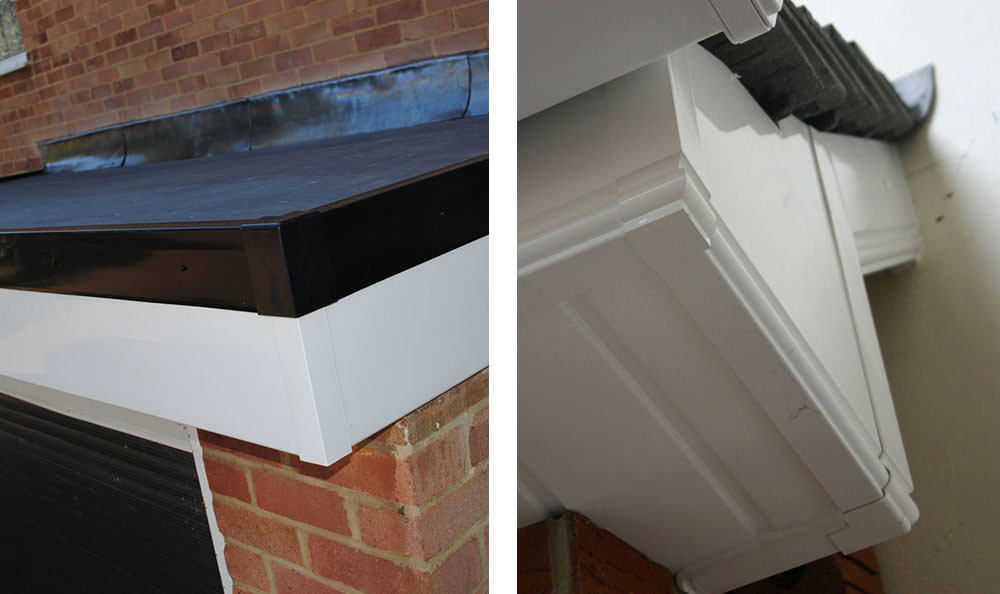 Fascia Benefits:
High quality materials
Little to no maintenance required
Available in a range of finishes, including bright and fresh white
Quick to install
Offers long term weather protection
Soffits
Soffits are the part of your roofline that people see from the street when they are looking up. They finish off the look of your Surrey home while offering a superior performance ensuring your property is safe from damage.
Soffits protect your roof space from damp, which is one of those unseen issues which could result in expensive remedial work. They are often ventilated, allowing air to circulate your roof space without letting in rain and snow. This helps to limit condensation, keeping damp to a minimum.
Our soffits come in a range of options for your Surrey home, enabling you to create a beautiful finish and tie them in with your fascias as well as your cladding and guttering.
This practical installation will enhance the appearance of your home as well as the performance and is an essential part of your roofline.
Low Maintenance Roofline in Surrey
Our uPVC fascias and soffits also mean no more climbing ladders and re-painting year after year. Extremely low maintenance, our soffits and fascias are made from lightweight uPVC so they will never rot, warp or require re-painting. This is why our products are ideal for inaccessible areas such as bargeboards. Once installed, you never have to worry about the performance of your new roofline.
Fully Integrated Roofline System
Our fully integrated roofline system for fascias and soffits ensures a perfect match for your property. Finishing profiles and moulded pieces ensure the ultimate finishing – even in the most difficult corners. You are guaranteed an ideal, long lasting solution when you choose our exceptional range of products.
Expertly Installed Roofline
Our team are experts in roofline installation, and we take the utmost care to ensure complete perfection in your Surrey home improvements.
When we install your fascias and soffits, we will remove the previous products and carefully inspect the structure underneath, assessing for any issues and any remedial work required.
This is so that you can be sure we aren't covering over problems, hiding them from view, but making sure that your property is in good condition.
Our honest approach and commitment to excellent customer service ensure you can have complete confidence in the quality and integrity of our work.
Fascias and Soffits Prices in Epsom
At Marathon Windows, we are known for our outstanding products combined with incredible prices, and our roofline is no different.
Get in touch with our friendly team to find out more about our fantastic fascias and soffits prices in Epsom, Coulsdon and other surrounding areas in Surrey.
We can transform your home in no time at all, achieving an outstanding finish.
Our fascias and soffits are a quality home improvement, adding kerb appeal and enhancing the performance of your Surrey property.