Composite doors are a guaranteed way to improve greatly improve the aesthetics of your Surrey home and create a stunning entrance to your Surrey home. In fact, composite doors are by far the most adaptable product on the market, with hundreds of colour and hardware variations available. Increase the value of your Surrey property, improve the security and reduce your expensive monthly heating bills. A brand new composite door could be the smartest investment you make this year. And here at Marathon Windows, your choice is limitless.
Before we discuss composite door variations, energy bills and security; allow us to introduce ourselves. We are Marathon Windows, based in Coulsdon Surrey. In fact, we have a couple of showrooms for our customers to visit. One in Coulsdon, and another in Epsom. Both demonstrating our highly versatile composite door with friendly and informative staff on hand to help you.
We are a family run and managed business, with over forty years' experience in providing the highest quality home improvement products throughout Coulsdon, Epsom and other nearby Surrey areas. Our commitment to highly competitive prices, impeccable customer service and top quality products has lead us to become one of the trusted and valued companies in Surrey.
Choose Marathon Windows for no pressure sales and genuine advice when designing a composite door for your Surrey home. Our caring team of highly skilled and trained professionals will always provide you with advice for your needs, building a trusted relationship. Here at Marathon, we have seen composite doors grow to be one of our top sellers throughout our forty years of trading…and here's why.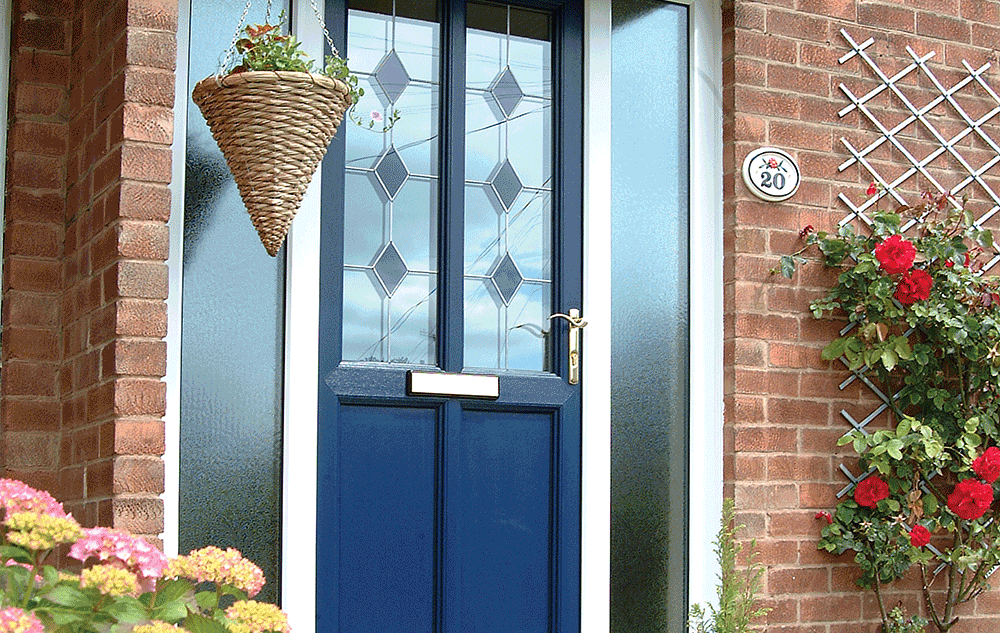 Why Are Composite Doors So Popular?
In a nutshell, Composite doors are alluring and totally secure. Succeeding in lowering the cost of your expensive energy bills and giving your property an entrance that you can be proud of. Our variety of designs and colour schemes ensure we can craft a door that complements the aesthetics of your Surrey property, creating an impressive entrance which will increase the value of your home. Composite doors are an investment not only to your security but your fast pass to lower energy bills and a cosmetic upgrade to your home. In fact, if you're reading this as a property developer you may want to give serious thought to investing in a composite door. The majority of buyers make up their mind before they even enter your home, make a lasting impression.
Maintaining Your Composite Door
Unlike timber doors, on which our composite doors are designed to replicate, composite doors require little to no maintenance to in regards to keeping their effortless operation throughout their life. Essentially, composite doors succeed in housing everything that makes wooden doors attractive whilst losing their difficult upkeep.
When you invest in a composite door you'll never need to set aside a weekend to renovate it by removing the door from the hinges, damaging your dicky hip in the process and returning the now ill fitted door because you got the measurements wrong. Unlike traditional wooden doors, our composite doors are simply unaffected by harmful and corrosive weather conditions. Your composite door will never rot, become misshapen ad lose their colour.
The most you'll ever have to do to one of our composite doors is give the concealed hinges a wash off with hot soapy water once in a while. Just to remove any dirt and grit which inevitably builds up through general wear and tear. Asides from this, we guarantee that your composite door will retain its thermal and security values for many years to come.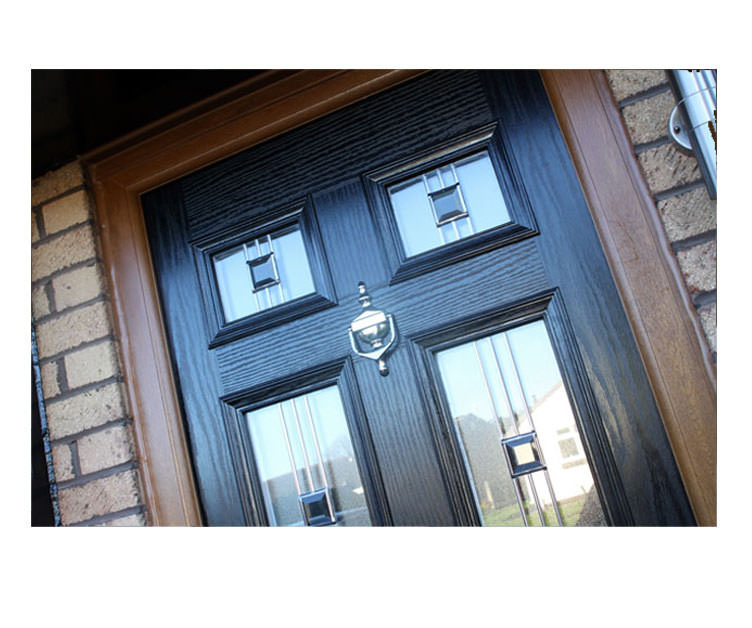 Energy Saving Technology That Works
Perhaps the main reason customers opt for composite doors over cheaper plastic alternatives is the energy saving technology which they contain. If you're looking to save money on expensive energy bills, this is the perfect door for you!
Fancy hazarding a guess at the percentage of energy waste an ill fitted, or badly constructed door could cost you? 5% perhaps, 10% at a push. Nope. It's way higher! Alarmingly a study carried out by the National Insulation Association shows that a poorly fitted door could be responsible for up to 20% of your total energy bill.
Composite doors contain rigid foam insulation core and solid GRP outer layer to retain your homes energy, which help to reduce your monthly energy bills. Our entire range of composite doors come with a standard B rating! To put things simply, our composite doors retain up to six times more heat than cheaper plastic alternatives.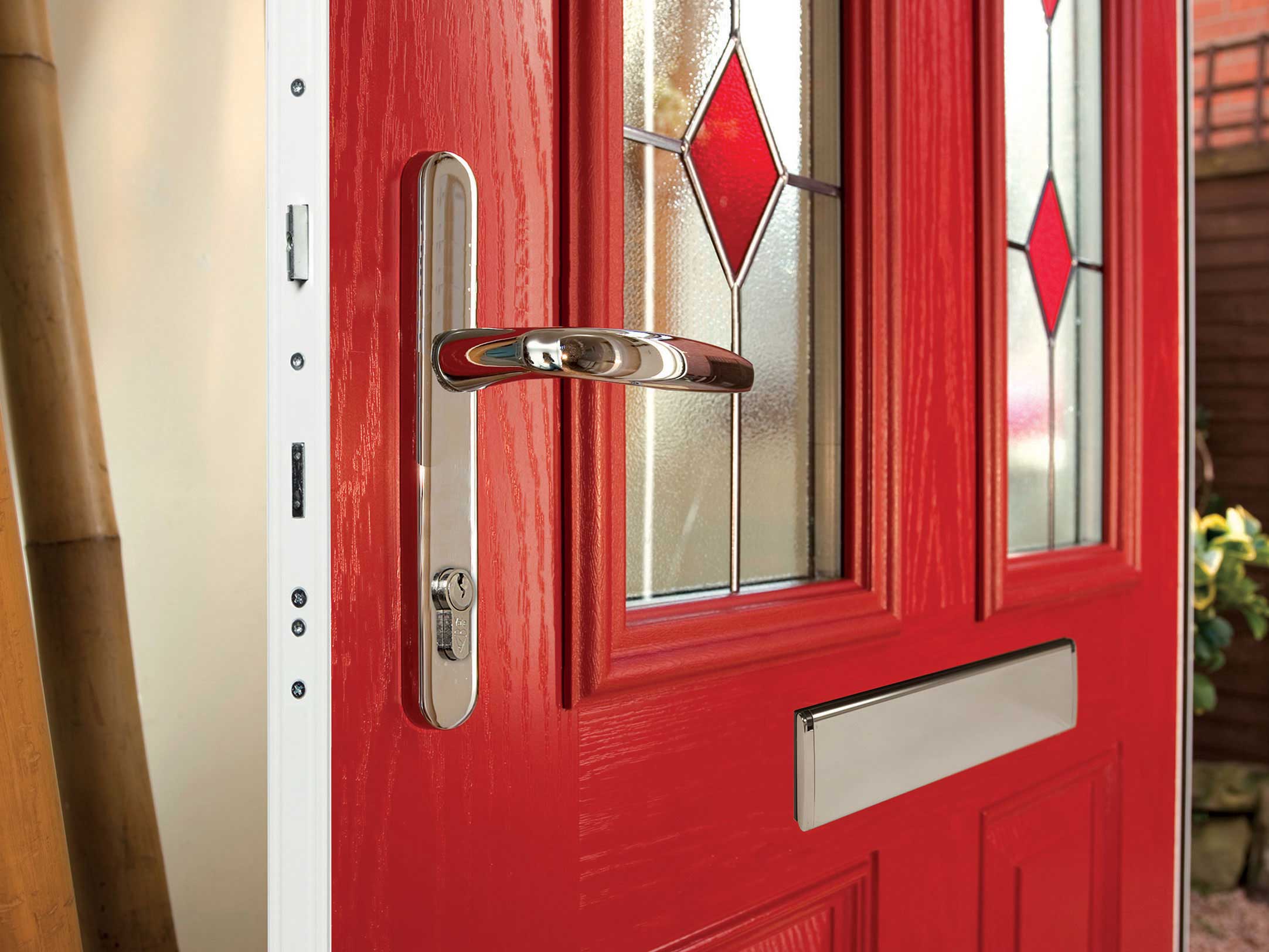 Composite Doors Security
As expert home engineers, we recognise and adhere to the responsibility of keeping yourself and your loved ones safe and sound. That's why we ensure each of our composite doors are fitted with security features you can rely on, preventing would be burglars from entering your home.
For starters, all locks and hinges are built into our composite doors. Meaning they are difficult to locate and access. If a potential burglar cannot see the locks and hinges, how on earth could they know the level of security they are up against?
Secondly, all of our locks and hinges are made from the highest quality stainless steel available. Heavy duty components that are built to stand the test of time, repel break ins and ensure the safety of yourself and loved ones. Have peace of mind with Marathon Windows, why not ask for a security demonstration at one of our showrooms?
Online Quote for Composite Doors
Marathon Windows have simplified the process for securing competitive online quotes. Why not generate yours in under five minutes? Our online quoting engine is free and ever so easy to use, simply fill in the details of the products you desire and retrieve your quote, it's that easy!
Or, if you'd rather, why not use our contact form to discover more about our composite doors? Simply fill in the online form with your query and one of our polite and informative staff will get back to you at a time that best suits.
Marathon Windows – We go the long way so you don't have to!